Advertisement:

MARK FONTEIJN (NEDERLANDS)
Agility : During my Agility career i use my experience of my work life to get the best out of my students and making them reach the impossible for them.
I teach the positive way with different rewarding methods.
My priority in Agility is to have fun,  but I can also be very competitive when necessary .
When I compete with my dog, I want to get the best out of it, but not at any cost. My dogs health stands prior to anything else, physical health aswell as mental health.
Whether I am on the course or one of my students or friends, I always try to comment the positive.
I competed on a lot of national and international courses.
Judging Career : I judge since 2013 and i try to get the best out of every team by building fluent courses with a lot of speed.
It is important to me that the dog has any independance and the handler keeps in motion.
The difficulty of the course must be felt by the handler but be easy on the dog.
I like to challenge the teams by giving them many choices on my courses.
My ambition has always been to judge the big FCI competitions. I was one of the judges privilegded to judge the European Open in 2019 which makes me extremely proud.
RIALP 2022: For the RIALP 2022 I am very proud to be one of the judges. I wish the runners and dogs a lot of fun on my courses and above all enjoy every moment in RIALP :).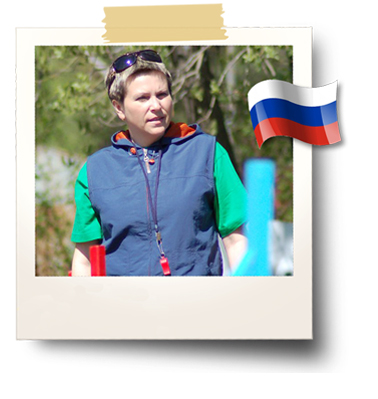 OLGA KOROVAIKOVA (RUSSIA)
NATIONAL RUSSIAN JUDGE FOR AWC 2022
I became a national judge in Russia in 1997. During this time I have won a large number of competitions on the territory of our vast country. In parallel with this she trained the team in her city. Among my students there are winners and prize-winners of Championships and Cups of Russia, bronze medalist of AWC 2017, winner of JEO 2018-2019. Now I am an international judge and also train my team. I have judged competitions with Ukraine, Belarus, Norway, Israel. I can't imagine my life without agility and I give it all my free time! Thank you very much for the invitation! I will be glad to meet you and I hope you enjoy my courses and I will enjoy your running in RIALP 2022!
MANCA MIKEC (SLOVENIA)
My name is Manca and I come from Ljubljana, Slovenia. I first stared with agility in 1999, but than I had few years of break due to sick dog. When I got my first border collie Bode in 2006, my life completely changed. I started to train more seriously, attending seminars and developing knowledge of this lovely sport. In 2010 I ran on my first EO with Bode, and also got new border collie, this time a girl named Lin. With all my knowledge I managed to teach Lin great basic and now its really easy to run with her. My both dogs are crazy fast and have great ability to work, so I just love to work with them as much as possible. In 2014 I got new puppy, papillon Aksi, who now also competes in highest level A3. At the moment I have 4 dogs: Lin, Aksi, Breezy and Tomba.
My biggest international success came in year 2018, when I became with team small of Slovenia EO champions and AWC vice-champions.
Aksi qualified for EO 2016,2017,2018 & 2019 and also AWC 2017,2018 & 2019.
At AWC 2017 we got 5th place in agility invididual run.
Lin was running with my best friend Polona for the last 4 years, and they were great team, ran 3x at AWC and every year also at EO. In year 2019 me and Lin (even though she was 9.5 year old already) qualified for EO and AWC.
In 2010 I  started working on my judging exam. So from fall 2013 im also agility judge (from 2014 international). I was also team leader for EO 2013, team assistant for EO 2014,2015& 2016 and assistant at AWC 2014,2015&2016.
So far I have judged in many countries, many important competitions, but year 2019 looks like it will have biggest challenges for me as a judge so far. I have judged Czech border collie championship, American EO Tryouts for 2020 and a lot of tryouts in Europe, Swiss cup 2020.
And I look forward to judging Rialp Agility in 2022!