Advertisement:

MARK FONTEIJN (NEDERLANDS)
Agility : During my Agility career i use my experience of my work life to get the best out of my students and making them reach the impossible for them.
I teach the positive way with different rewarding methods.
My priority in Agility is to have fun,  but I can also be very competitive when necessary .
When I compete with my dog, I want to get the best out of it, but not at any cost. My dogs health stands prior to anything else, physical health aswell as mental health.
Whether I am on the course or one of my students or friends, I always try to comment the positive.
I competed on a lot of national and international courses.
Judging Career : I judge since 2013 and i try to get the best out of every team by building fluent courses with a lot of speed.
It is important to me that the dog has any independance and the handler keeps in motion.
The difficulty of the course must be felt by the handler but be easy on the dog.
I like to challenge the teams by giving them many choices on my courses.
My ambition has always been to judge the big FCI competitions. I was one of the judges privilegded to judge the European Open in 2019 which makes me extremely proud.
RIALP 2022: For the RIALP 2022 I am very proud to be one of the judges. I wish the runners and dogs a lot of fun on my courses and above all enjoy every moment in RIALP :).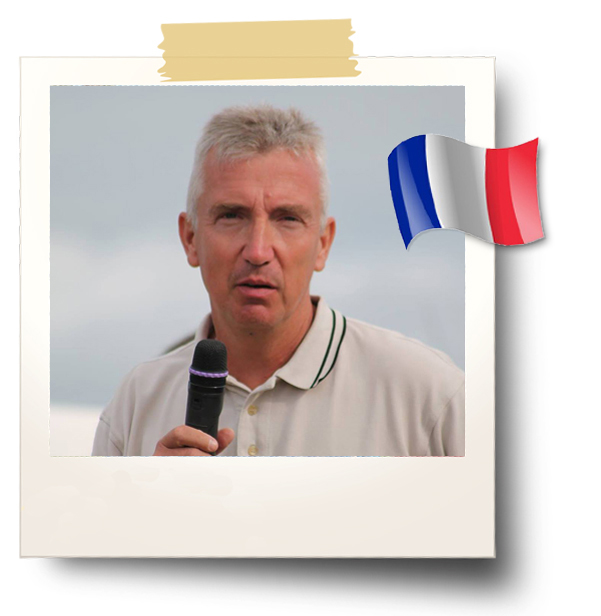 DOMINIQUE PRIN (FRANCE)
First of all, allow me to introduce myself. I'm 58, and all my life I've lived in the South of France; first in Marseille, then in Toulon, and right now in Nîmes.
I discovered dogs education and dogs sport at the beginning of the 2000's. Quickly, I became involved in my club, helping and obtaining the dog instructor certification. Meanwhile, I was discovering agility. The complicity with your dog, the osmosis, and the possibility to enjoy this while practicing a sport immediately seduced me. The competition was fulfilling all my expectations, and quickly, agility became an important part of my life. Soon after, I obtained my agility instructor certification.
I run with ISIS, in level 3, and Onolulu in level 1, my shetland sheepdogs as soon as I can.
After my apprenticeship of judge in 2014, I was qualified at the beginning of 2015.
As I conceive it, the function of judge is to submit courses that allow teams to:
1) Express themselves on a flowing circuit while feeling totally secure;
2) Have the opportunity to display all their great work,
3) Take up a challenge,
4) Choose the best strategy adapted to a sequence,
5) Enjoy the run !,
6) Display our discipline in the best light.
Since then, I have had the honour of judging lot of competitions.I have had the opportunity to judge in Switzerland, Italy and Spain. Belgium, but also the Belgian Shepherds World Cup have been cancelled for Covid 19.
The most important competitions judged or to come:
National Championship 2017 (France)
National Championship FMBB 2015, 2016, 2017, 2021, 2022 (France)
National Championship : Grand Prix de France 2019, 2022 (France)
National Championship junior 2019 (France)
FCI AWC tryouts France 2018, 2020, 2022 (France)
AVALLON 2018, 2019, 2022 (France)
BREIZH CUP 2020, 2022 (France)
INTERNATIONAL SHELTIE 2019 (Switzerland)
and this year RIALP 2022 (Spain)
It is an honor for me to judge the 2022 Rialp with such prestigious judges, to watch fantastic teams evolve !
It is with great pleasure that I will meet the team of Agility Ciutat Comtal!
Take care of yourself
Dominique
MANCA MIKEC (SLOVENIA)
My name is Manca and I come from Ljubljana, Slovenia. I first stared with agility in 1999, but than I had few years of break due to sick dog. When I got my first border collie Bode in 2006, my life completely changed. I started to train more seriously, attending seminars and developing knowledge of this lovely sport. In 2010 I ran on my first EO with Bode, and also got new border collie, this time a girl named Lin. With all my knowledge I managed to teach Lin great basic and now its really easy to run with her. My both dogs are crazy fast and have great ability to work, so I just love to work with them as much as possible. In 2014 I got new puppy, papillon Aksi, who now also competes in highest level A3. At the moment I have 4 dogs: Lin, Aksi, Breezy and Tomba.
My biggest international success came in year 2018, when I became with team small of Slovenia EO champions and AWC vice-champions.
Aksi qualified for EO 2016,2017,2018 & 2019 and also AWC 2017,2018 & 2019.
At AWC 2017 we got 5th place in agility invididual run.
Lin was running with my best friend Polona for the last 4 years, and they were great team, ran 3x at AWC and every year also at EO. In year 2019 me and Lin (even though she was 9.5 year old already) qualified for EO and AWC.
In 2010 I  started working on my judging exam. So from fall 2013 im also agility judge (from 2014 international). I was also team leader for EO 2013, team assistant for EO 2014,2015& 2016 and assistant at AWC 2014,2015&2016.
So far I have judged in many countries, many important competitions, but year 2019 looks like it will have biggest challenges for me as a judge so far. I have judged Czech border collie championship, American EO Tryouts for 2020 and a lot of tryouts in Europe, Swiss cup 2020.
And I look forward to judging Rialp Agility Cup 2022!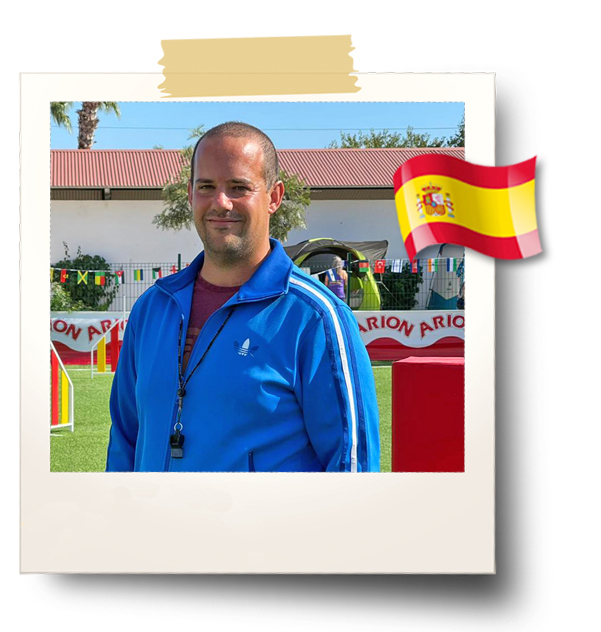 MARC RABADÀ (SPAIN)
Nika, una cocker americana, fue la culpable de que entrara en éste mundo del agility en el año 2007. En principio no teníamos intención de competir, pero en 2010 participamos en nuestro primer campeonato de España, quedando en tercera posición.
Desde entonces he competido con tres perros más, un hijo de Nika, Zeus, y dos border collie, Rinoa y ahora en activo con Ice. Clasificandome con todos ellos para el campeonato de España de cada año, además de varios mundiales FCI y otras competiciones internacionales.
Por otra parte, empecé a juzgar en 2015 cuando fui nombrado juez en prácticas, hasta llegar a ser juez nacional de agility de la RSCE en 2017. Desde entonces he juzgado más de 200 pruebas de agility de la RSCE, incluyendo dos campeonatos de España por equipos y alguna prueba internacional, obteniendo cada vez más experiencia y aprendiendo día a día.
Mi objetivo en cada uno de mis diseños es que el perro y guía puedan desarrollar la máxima velocidad con líneas muy fluidas, a la vez que usan la técnica para superar las dificultades. Asi hay que usar todo el físico, velocidad y técnica posible, y estoy encantado de poder llevar mi visión del agility en la RIALP SUMMER AGILITY CUP 2022 y que todos disfrutéis con vuestro perro de mis recorridos.